Human trafficking: Third arrest after Cheltenham raids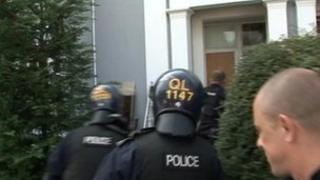 A third arrest has been made following police raids on two suspected brothels in Cheltenham.
A man, 33, was detained on suspicion of managing a brothel, human trafficking and money laundering after handing himself over to Cheltenham officers.
Earlier on Wednesday, three properties were raided in the town and two women, thought to be victims of human trafficking, were taken into care.
A 41-year-old woman and 40-year-old man remain in police custody.
The detained woman was arrested in Cheltenham on suspicion of the same charges, while Met Police officers made the second arrest in London on suspicion of money laundering.
Some 50 officers raided properties on Pittville Lawn and Suffolk Road, where the two women of South-east Asian origin were found, and a further property in Witcombe Place where cash was seized.