Wild boar cull to restart in the Forest of Dean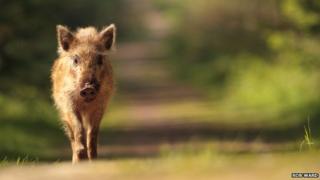 A wild boar cull is to restart in the Forest of Dean after being suspended over fears they could be wiped out.
The Forestry Commission has said its annual cull would begin later this month with the aim of shooting 100 animals by January.
It recently agreed to raise the Dean's target population from 90 boar to 400.
Campaign group Friends of the Wild Boar has "reservations" about the cull restarting, as estimated numbers vary wildly from 200-600.
'Open population'
Ian Harvey, from the Forestry Commission in the Dean, said a target population of 400 was "much more realistic" than 90, although the debate over numbers would always continue.
He said: "It's an open population. It's not enclosed by fences so there's movement in and out of the forest depending on food availability and time of year, so whatever methodology you use to try and address numbers it will only ever be an estimate.
"Last year we culled 150 and this year there are more animals about than that - so clearly doing nothing, given their breeding dynamics, is not an option."
At the end of August, a meeting was held in Coleford to discuss the issues between the commission , a verderer, and two conservationists.
Chair of the meeting, verderer Ian Standing, said those present agreed how hard it was to determine exact numbers of the feral animals.
"Doing nothing in the long term is not an option," he said.
"There are no natural predators and the reproductive capacity of wild boar is very high. With sows producing four or more young each year, a 50% reduction by emigration or humane control is needed to maintain numbers at a stable level."
Campaigner Dave Slater, from the Friends of the Wild Boar group, said he told the meeting that numbers of boar were much lower than thought, possibly as low as 200 across the whole district.
"The natural die-off of boar, and the way they emigrate out of the forest, means that the population never really gets above 400 at any time," he added.