'Stolen' acids found in Forest of Dean amid arrests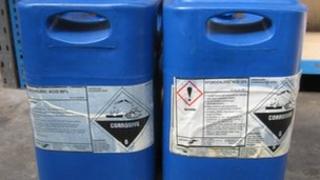 Two people have been arrested in connection with the theft of two containers of acid from a business in the Forest of Dean, police have said.
A local man, 18, was arrested Wednesday on suspicion of burglary. He is also being questioned under the Explosive Substances Act 1883 and is in custody.
A boy, 14, from Whitecroft was also arrested on suspicion of burglary. He has been bailed until 16 September.
The two 30-litre drums contained hydrochloric acid and sulphuric acid.
Both drums were taken from Whitecroft overnight between Tuesday and Wednesday.
They have since been recovered from a property in Whitecroft. A quantity of potassium cyanide was recovered in Pillowell.