Forest of Dean acid theft: Man, 18, charged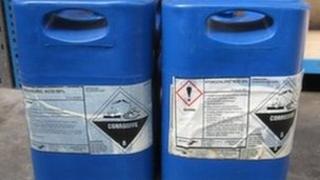 An 18-year-old man has been charged under the Explosive Substances Act over the alleged theft of harmful chemicals.
The man, of no fixed abode, will appear before magistrates later charged with making and possessing an explosive substance for an unlawful purpose.
He has also been charged with possession of ammunition for a firearm without a certificate and burglary.
Two arrests were made last week after two 30-litre drums of acid were stolen in the Forest of Dean.
A 14-year-old, arrested on Thursday, was released after being given a formal reprimand for his involvement in the burglary.
The drums, containing hydrochloric acid and sulphuric acid, were stolen from a business in Whitecroft and later recovered from a property in the same village.
A quantity of potassium cyanide was also recovered nearby in Pillowell.