Gloucestershire Warwickshire Railway hits £1m target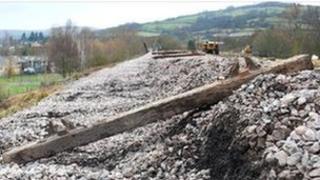 A heritage railway line badly damaged by two landslips has reached its £1m emergency fundraising target.
Two major embankment collapses left the Gloucestershire Warwickshire Railway facing repair costs of more than £670k and major disruptions to its service.
Music producer Pete Waterman, who is chairman of the heritage railway, launched the £1m appeal two years ago.
It is hoped that trains will be running again between Toddington and Winchcombe within two months.
'Strength to strength'
An anonymous donation of £7,000 completed the fund raising efforts to reach the £1m target.
Malcolm Temple, the railway's chairman, said he had been "astounded" by the huge support received.
"Everyone can be immensely proud of the contribution they have made and I am honoured to be chairman of such an enterprising group that just won't take 'no' for an answer," he added.
"This spirit of enterprise can only ensure that this railway will go from strength to strength."
A new portion of track has now been laid at 'chicken curve' which will soon be connected and have its signalling re-installed.
About 70,000 passengers use the heritage line every year.
At the launch of the emergency appeal in September 2010, Mr Waterman said getting the railway's full length reinstated was vital for its workforce and for the local tourist economy.