Gloucester stolen parrot owner in hospital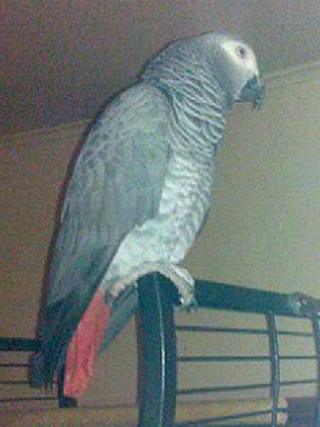 A woman who had a heart attack after learning her parrot had been stolen has spent two further nights in hospital.
Lois White, 61, feared she was having another attack after experiencing chest pains at home in Tredworth, Gloucester.
She was released earlier this week after being monitored for three days at Gloucestershire Royal Hospital.
Thieves stole Jasper, a six-year-old African grey parrot, two weeks ago and Mrs White suffered a heart attack whilst giving a statement to police.
'I miss him'
She said the attack, and subsequent issues which occurred within a week of being released from Bristol Royal Infirmary, had been brought on by "extreme trauma".
"I can't relax. The longer it goes on the more I miss him," she said.
The family has appealed for any information that could lead to her being reunited with Jasper, who is described as being a "very nervous" bird.
Phrases used by the parrot include: "Do you want some porridge?", "Cup of Tea", "Trick or Treat", "Merry Christmas", "Naughty boy Oscar, naughty boy" and "Don't be so stupid".
Mrs White said she was blocking out any thoughts of Jasper not returning as she was worried that bad news could "trigger" more health issues.
Gloucestershire Police has appealed for any information or witnesses.