Work on Cheltenham's Arle Court roundabout to start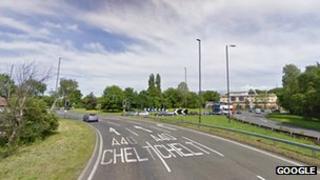 Work to "noticeably improve" traffic around one of the busiest junctions in Gloucestershire begins this week.
"Intelligent" traffic lights are being installed at the Arle Court roundabout on the A40 in Cheltenham.
Computers will monitor the lengths of the queues on all the roads approaching the roundabout, and adjust the timings of the signal to help cars keep moving.
Gloucestershire Highways said the system will be set to maximise traffic movement through the junction.
"It's been a pinch point on the network for a long time and the funding has come on the back of the Asda development on Hatherley Lane," a spokesman said.
"Sensors take into account the queue lengths on all the roads on to the roundabout and also how much how much is on the roundabout.
"The computer is set to maximise traffic movements so this should be a noticeable improvement."
Work on the scheme, which also includes resurfacing, will take place outside of rush hours.