Forest of Dean traders protest against parking charges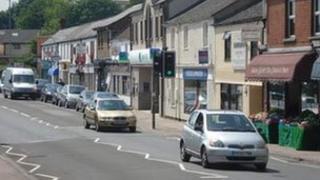 Forest of Dean traders are taking their fight against parking charges to the streets for a second time.
Shopkeepers campaigning against the charges are to hold a second protest outside the council offices later.
One business owner in Lydney claimed she had seen profits halve since charges were introduced in July.
Forest of Dean District Council said its charges were introduced in line with current transport policies and in response to failings in the old system.
It added it would listen to people's concerns.
'Just not right'
Parking charges were introduced at 10 car parks in Coleford, Cinderford, Newent, Lydney and Mitcheldean on 1 July.
Sheila Taylor, who runs the Rainbow shop in Lydney, said the parking charges were "just not right for the Forest".
"Personally I've seen a 50% fall in my profits. We've done a few surveys of high streets and most traders are suffering between 20%-25% downturn in their profits.
"We need to let [the council] know that there is still a great strength of public opinion against the parking charges."
A campaign group called Hands Off Our Town (Hoot) has been formed to tackle concerns, such as parking charges, in Lydney, Coleford and Cinderford.
As well as the council protests, Mrs Taylor said the group had further plans for its "ongoing campaign".