Halfway House pub closure campaign gets MP's support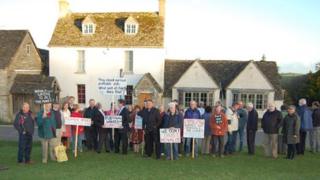 Campaigners attempting to keep their village pub open have won the support of their MP.
The Halfway House in Box, Gloucestershire, was closed in July by owners the Novalis Trust and a group of locals have protested ever since.
Cotswolds MP Geoffrey Clifton-Brown said the issue was about more than just the pub closing.
"I don't know whether the decision can be reversed and I shall be battling for that," he said.
"There was a lot of passion at the meeting [on Friday] which does indicate that there's a real problem here with the community and the whole relationship with the Novalis Trust - I think that's something we must try and heal.
"The first thing I want to do is meet with the trust face-to-face... if that doesn't work... we could raise the matter in parliament. But I hope that won't be needed," the Conservative MP added.
The trust, which runs the nearby Cotswold Chine School, said it shut the pub because it was no longer viable.
'Community centre'
Campaigner Sean Kelly said the MP was "well aware" of the strong feelings within the community.
"It's more than just a pub, it's quite an important community centre and used for numerous functions," he added.
An online petition against its closure, has over 1,200 signatures, Mr Kelly said: "Clearly there is a lot of passion and a lot of people want it reopened."
Villagers say the pub dates back to 1779 and was the only one in the village.
The Novalis Trust bought the premises in 2002 to help finance the school's educational activities.
Trust chief executive Jake Lucas previously said number of experienced people had failed to make a success of the pub and it was a valuable asset to the charity.