Soil tests on Gloucester field after £50,000 Sport England grant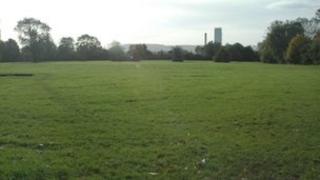 Experts from Sport England are to inspect a disused playing field in Gloucester after approving a grant of £50,000 to bring it back to life.
Soil samples will be taken from the strip of land next to Sir Thomas Rich's Grammar School in Oakleaze. The drainage systems will also be checked.
It is the first visit to the site by Sport England.
Tony Barton, from the school, said the government agency would "use and recommend their own contractors".
"They're going to take samples I think. They're going to make sure that the parameters within which we want the pitch are going to fit with their recommendations," he added.
'Professional advice'
"It's all part and parcel with the funding arrangement that Sport England are comfortable with a contractor that they have huge experience with.
"[They will be] making sure that what we do achieve is something that's acceptable to not only the school but Sport England and the sport in general."
Charles Johnston, from Sport England, said part of the grant meant they would give the school "professional advice".
"We've got agronomists [experts in soil management and fied-crop production], that are really as expert as their title sounds, and they will work with the applicant to make sure it's the right drainage solution, or it's the right grass solution, to make sure that it's there and fit for purpose and can be played on for many years to come.