Gloucestershire road funding could go to councillors to spend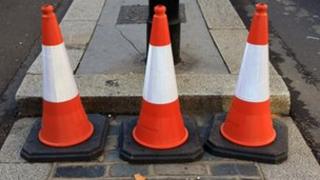 Funding for road improvements could be given to county councillors to spend in their part of Gloucestershire under a new plan.
Councillors would get £10,000 each over two years to improve roads in their area under the Highways Your Way pilot.
The scheme would cost £1.16m overall - £630,000 in year one and £530,000 in year two - if approved next week.
It is hoped it will enable smaller parishes to make improvements such as new road signs or traffic islands.
The scheme will go before cabinet for approval next Wednesday.
There are currently 63 county councillors in Gloucestershire. That number will be cut to 53 after the next election in 2013.
The county council said funding for the project would come from its transformation reserve - a pot of money allocated to "changing business practices" and saving money in the future.
'More power'
If the pilot is successful and the scheme is continued, it would be paid for as part of the normal highways budget, the county council added.
"For some time now we've been looking at ways to give local people more power and more choice over how they receive services," said Conservative councillor Mark Hawthorne, leader of the council.
"County councillors are our closest link to these communities so it makes sense for them to be more involved and to tell us where this money should be spent."
Mr Hawthorne added there was "real potential" for the scheme to "deliver genuine benefits" for local people.
But fellow Conservative councillor Joan Nash, who deals with 13 villages in Upton St Leonards, Bisley and Painswick, said the money "wouldn't go very far".
"It's very exciting that councillors are being given the opportunity to spend £10,000 on their own division but I don't think we'll be able to get big road repair work done," she added.
"It's going to be smaller items that perhaps they wouldn't be able to have if we hadn't got this money."