UK aid facility opened at Cotswold Airport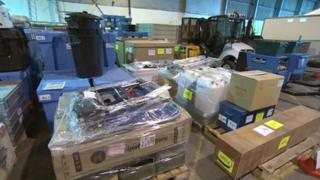 A key operations hub for sending UK aid around the world has been opened at Cotswold Airport in Gloucestershire.
The disaster response facility supplies equipment, such as vehicles and tents, to disaster zones from its warehouse in Kemble.
Minister for International Development Alan Duncan visited the site on Friday to officially open the hub.
He said that "proper stores, proper equipment, and people" were essential to international development.