Anti-social behaviour in Gloucester to be tackled with 'ASB van'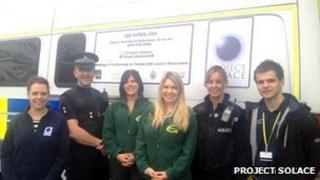 Police are working with council officials and housing association staff in an attempt to cut anti-social behaviour in Gloucester.
The "ASB Van" is currently being run as a trial but if successful will be rolled out across the city.
Once the police have dealt with any incidents council staff on board can issue relevant enforcement notices.
Any disturbance caused by or to Gloucester City Homes tenants will be addressed by housing association staff.
Sara Taylor, from Project Solace - a partnership of the police, council, and housing agencies, said many tenants wanted a way of getting help when they were affected by anti-social issues outside of normal office hours.
She said victims often needed an immediate response to the problems they were experiencing and that the van will help provide this and offer "immediate consequences" to the perpetrators.
"Housing association staff are also on hand in the van to witness any acts of anti-social behaviour and can advise the tenants of the problems members of their household may be causing.
"They can then enforce tenancy issues and can also help victims of any abuse," she added.