Gloucestershire PCC: Alistair Cameron to focus on crime detection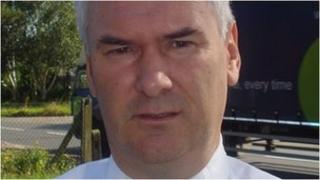 Robbery, domestic burglary and car crime detection rates will be improved in Gloucestershire, a police and crime commissioner candidate has pledged.
Lib Dem Alistair Cameron said he would find out why detection rates were less than 10% for all three crime types.
"The cause may be statistical but when you have a large turnover in police officers, you also lose experienced detectives," he said.
He has ruled out spending more in favour of re-organising the staffing.
Mr Cameron added that senior officers were already aware of the issue and were looking at ways to improve low detection rates.
One solution was to re-organise staffing so more experienced officers worked on these types of crimes, which would in turn drive up performance.
Mr Cameron said it would not be his responsibility to organise staffing but he would support the chief constable's efforts on this issue.
"I think the main thing is ensuring they have experienced detective officers dealing with it rather than putting any more resources into it - resources are very tight so we wouldn't be able to do that."
Gloucestershire police force must make cuts of £18m by 2015.
The Lib Dem candidate said he would oppose the government if this sum increased, in order to protect front-line policing.
Bricks and mortar
But no promise has been made to reverse planned police station closures.
"To be frank, it is better to spend money on police officers and police community support officers rather than bricks and mortar," said Mr Cameron.
"I can see a lot of logic behind the cuts that are taking place and you're going to continue to review the police estate all the time."
Like other Gloucestershire police candidates, Mr Cameron has pledged to help victims of crime, in particular those suffering domestic abuse.
"Over time the way police have handled domestic abuse has improved, but frankly there is an enormous amount of domestic abuse out there and I would encourage people to report it," he said.
Mr Cameron said that by standing as a Liberal Democrat, voters would have a good idea about his ideals and values and he has pledged keep politics out of the operational side of policing, if elected.
Also standing in the Gloucestershire police commissioner elections are Victoria Atkins (Conservative), Rupi Dhanda (Labour) and independent candidate Martin Surl.