War poet FW Harvey's work to go on show in Gloucestershire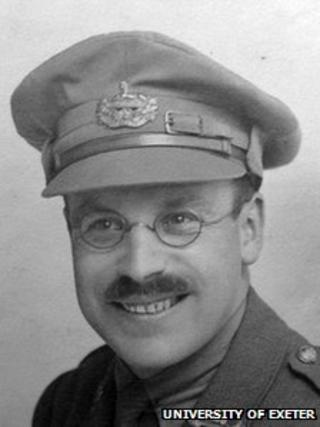 Long-forgotten letters, papers and manuscripts detailing the life of a World War I poet from Gloucestershire are to go on public display.
Frederick William Harvey is known for his poetry and acts of courage during the Great War, when he was captured and attempted daring escapes.
Since his death, his family has looked after the papers.
Now Gloucestershire Archives and the University of Exeter are to curate the work for experts and the public to use.
'Fabulous testament'
FW Harvey achieved fame as a war poet.
Having been awarded the Distinguished Conduct Medal before being made an officer, in 1916 he was captured, and endured a long imprisonment which he later described in his book Comrades in Captivity.
He tried to escape numerous times, and wrote poetry which was published in England. He was released following the armistice.
The poem Ducks has featured in the BBC's The Nation's 100 Favourite Poems.
The papers include textbooks bearing the stamps of the German censor, in which Harvey wrote the first drafts of his prisoner poems, to lifelong correspondence with his old comrades.
There are numerous letters from POWs who read his book and wrote to him about their own experience of World War I.
The university is to award a postgraduate scholarship to a doctoral researcher to help with the cataloguing.
Roger Deeks, chair of the FW Harvey Society, said: "The archive is a fabulous testament to an exceptional man who lived through extraordinary times.
"This is a wonderful development that will awaken interest in FW Harvey and stimulate awareness of the important developments in literature and music that took place in Gloucestershire."