New Zealand DNA tests on helicopter crash bodies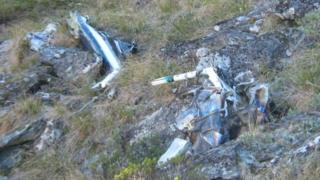 DNA tests are being carried out on a body believed to be that of a British tourist who has been missing since a New Zealand helicopter crash in 2004.
The wreckage was found in Fiordland, a remote area of the country's South Island, on Wednesday, police confirmed.
The helicopter was carrying Hannah Timings, 28, from Cheltenham, and local pilot Campbell Montgomerie, 27.
A two-week search in January 2004 failed to turn up any sign of the Hughes 500 aircraft.
Difficult conditions
Nearly nine years later, a helicopter pilot spotted the wreckage which police have confirmed was the missing helicopter.
New Zealand Police said Ms Timings and Mr Montgomerie were still to be formally identified and the families of both individuals had been told of the discovery.
Police said the helicopter had been en route from Howden Hut to Milford Sound in difficult weather conditions when it lost radio contact with the Milford radio tower.
Insp Olaf Jensen said their thoughts were with the families and they hoped the discovery of the wreckage would bring some closure for them.
In April 2004, more than 200 people gathered at a village hall in Toddington, near Cheltenham, for a memorial service.
Ms Timings, who worked as a furniture buyer in London, had been on a three-month trip to New Zealand.