River Severn 'long peak' expected in Gloucestershire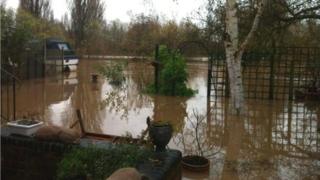 People affected by flooding around the River Severn are being warned it could take a while for the water to recede.
In Gloucestershire, the river is expected to rise a further 10cm before peaking later at 4.4m (15ft).
The Environment Agency (EA) said rainfall elsewhere had caused the river to remain swollen and levels would take "quite a lot of time" to go down.
The county council's cabinet has approved a £50,000 fund to help support those affected by floods.
It has also approved the spending of a further £1m on flood alleviation schemes.
Council leader Mark Hawthorne, said about 50 properties had flooded but the EA believed that figure would have been nearer 500 without the flood defence work that has been carried out in the county since 2007.
Isolated villages
A number of flood warnings and alerts remain in place, particularly around the River Severn, and many roads are still closed or impassable.
Gloucestershire Fire and Rescue Service is also visiting villages left isolated by flood water such as Deerhurst, Apperley, Tirley, Corse Lawn, Ashleworth, Sandhurst and Maisemore.
Crews are patrolling these areas on foot and in boats to make sure that residents, properties and livestock are safe.
Meanwhile, organisers of the Cirencester Foodbank are appealing for the public's help to restore a warehouse that was flooded at the weekend.
Although the retaining wall held, restricting the damage to the warehouse, there is still much work required to remove saturated flooring and carpeting which is trapped under heavy shelves of food.
Chris Bainger, from the Environment Agency, said: "It is going to be a very long peak as all the rivers upstream meet, and the water that we had in Wales comes down.
"It's all going to meet up [here] and will take quite a lot of time to disappear."
Gloucestershire Highways said the "very slow and flat peak" of the river would mean the situation with closed roads would continue for a few more days.
It said a major clean-up was under way on roads that had flooded and the surfaces would be checked for damage.
Mr Hawthorne, added: "We've got a very good track record in Gloucestershire around trying to make sure we are resilient to these sort of events.
"It is really unfortunate we have had about 50 properties flooding in the county this time around but we are committed to an ongoing level of support to make sure we protect as many properties as possible.
"If we hadn't done all the work we have done since 2007, they [Environment Agency] reckon 500 properties would have flooded this time around."
On Tuesday, a number of people were rescued from isolated and flooded properties as parts of Tewkesbury and Gloucester were affected by the swollen River Severn.
Prime Minister David Cameron visited the county to see the emergency Tri Service centre in operation in Quedgeley.
The level of the River Severn is expected to be one metre lower than during the county's flood crisis five years ago when it peaked at 5.5m (18m) at Tewkesbury.