Gloucester flood-trapped horses fed by rescue crews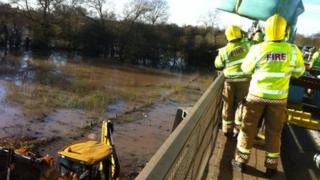 A large herd of horses trapped in flood water in Gloucester are being fed and checked on by rescue crews.
Some 60 horses are stranded on flooded farmland, near to the River Severn, and have attracted concern from drivers using the A40 bypass overhead.
Bales of hay are being lowered into the field where the herd of Argentine cattle horses are kept and a vet is also on site to assess the herd.
The eastbound carriageway of the A40 has been closed during the operation.
An RSPCA spokesperson said a flotation platform was also needed to take the vet to the horses and there was concern for a few foals in the herd.
On Tuesday, Lee Hopgood from the RSPCA said the horses' owner had recently moved on to the land and, without knowing the area was susceptible to flooding, had been caught out.