Churchdown Tesco building delay questioned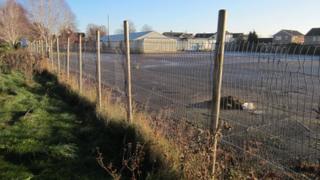 Questions are being asked about why building work has not begun on a Tesco supermarket planned for a Gloucestershire village.
The company first displayed plans for a store in Churchdown three years ago.
County councillor Bill Whelan believes the supermarket giant should start work on the supermarket or forget the idea and sell the land to someone else.
A Tesco spokesperson said a meeting would be held at the end of January "to determine the build schedule".
'Get on with it'
The store would be built on the former Hurrans Garden Centre on Cheltenham Road East.
It has divided opinion, with some people welcoming the idea and others claiming it would have a negative impact on other shops.
Mr Whelan, who is also chairman of the GL3 Community Hub on the opposite side of the road, said the derelict site was not helping with the promotion of the community centre.
He said: "[Tesco] should get on with building the store, or perhaps they should sell the site for another benefit for the local community.
"Whether it's Tesco that goes there, or something else, it would be far better than what is there at the moment."
Another councillor for Churchdown, Kay Berry, said many villagers had been asking what the delay was with building work.
The company first held a public display of its "exciting plans" in the community centre on 3-4 December, 2009.