Painswick residents pay for tourist signs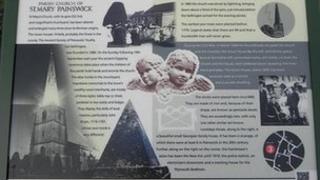 People in a Gloucestershire town have paid for a series of signs to give tourists information about the area's history.
With the help of about £7,000 in local donations, the Painswick Local History Society commissioned the notice boards to be installed around the town.
Painswick dates back to medieval times and grew in size due to the wool trade.
The six boards, found in key areas around the town, were designed by Painswick artist Andy Lovell.
Carol Maxwell, of the Painswick Local History Society, said: "I had been aware that visitors had little or no information available to them about the town - a great pity as it has so much of interest in its history, architecture, churchyard and legends.
"The hope is that our visitors will see more of the town, will stay longer and hopefully therefore use more of the facilities and businesses."