Air Balloon roundabout plans are 'sticking plaster'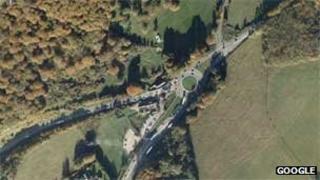 Proposed changes to a roundabout near Gloucester in a bid to solve traffic problems would just be a "sticking plaster", an MP has said.
The Highways Agency wants to change the layout of the Air Balloon roundabout to stop queuing traffic in the area.
But Conservative MP Geoffrey Clifton-Brown suggested a long-term solution could be to build a second roundabout.
Agency managers said no final decision had been made over changes to the layout of the roundabout.
The Air Balloon roundabout sits on a single carriageway section of the A417 dual carriageway between Swindon and Gloucester - a route which links the M4 and M5.
'Low-cost idea'
The area close to the roundabout has been dubbed "the missing link" where peak time congestion is common.
The latest proposals would see traffic heading from Swindon forced to drive down Crickley Hill and not given the option to drive around the roundabout.
Mr Clifton-Brown said the scheme would be relatively cheap at around £150,000.
"The proper solution would involve hundreds of millions of pounds whereas this is a low-cost experimental idea," he added.
"Long term what it needs is at least two roundabouts because it's a very complicated junction with a steep gradient."
Sir Graham Watson, the Liberal Democrat MEP for South West England, said many local people felt the only way forward was to seek compulsory purchase orders for the properties along the route and to expand the road.
Village impact
"What worries me about the new proposal is that it is likely to increase traffic in the surrounding villages," he said.
"We don't want to just move the problem elsewhere and while this idea may well improve air quality in the immediate vicinity it doesn't deal with the problem of it being a pinch-point."
A Highways Agency spokesman said: "While a preliminary assessment of the scheme has been undertaken, further detailed design work and the assessment of risks and impacts are essential before a decision is taken on whether an experimental scheme would be appropriate.
"If the trial goes ahead it is hoped that it will be implemented for an experimental period (not exceeding 18 months) during the next financial year."