Stroud's Tricorn House work delayed until next year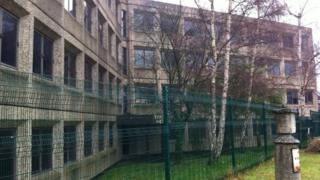 A building that has been empty for well over a decade will be "beautiful" within a year, its owner believes.
Work to restore Tricorn House, in the Cainscross area of Stroud, was due to start in October but delayed due to issues with money and planning.
Summerfield Medical Ltd is turning the building into a care home for people with dementia.
Its boss, Keith Coghill, said he was optimistic that work would start in the spring and be complete by Autumn 2013.
'Jump through hoops'
The office block was built more than 40 years ago and used by the Department of Social Security until the mid-1990s.
Now Summerfield, which is based in Cheltenham, has permission to turn it into a care home.
Mr Coghill sais: "The government said it's easy to borrow the money, and it's not.
"You're having to jump through many hoops and when you're going to spend over £3m you really need to sort everything out before you start because you don't want things going wrong after you start and have to call it all off."
But once the project has been completed Mr Coghill said it would "be beautiful" and "immensely different".
"The outside will be a light finish, with new windows, new glass, it will be really attractive and will lift the whole of that roundabout area," he added.
Stroud District Council is monitoring the situation closely and wants to see the building back in use.
Dennis Andrewartha, executive member for planning, said: "I am not convinced personally that it is the best use for it, but nevertheless we are anxious to get it back into use and we are anxious also to support businesses moving into this area."