Stephen Morris picks his top 10 Gloucestershire bands of 2012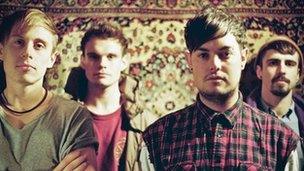 So that was 2012. Did you enjoy it?
The good news is: we survived the much celebrated Armageddon. The bad news? Well, the year that brought us an array of excellent music has come to an end.
2012 brought not just some fantastic songs crafted in Gloucestershire, but whole albums of sumptuous gorgeousness.
Still, with a bit of luck and a following wind, 2013 should bring us more of the glorious same.
Last year was a year of understated and rather melancholic sounds - with one gleefully excitable exception. But hey, who wants to be happy all the time?
So sit back, relax, and read on for my top ten of the last twelve months of local music.
The band formerly known as Funky Horse Milk (yes, you did read that correctly) performed an impressive set at this year's Wychwood Festival.
Despite the slightly leftfield band names, the four lads of Canary Swing create songs which capture much of what's been going on in guitar pop lately.
Expect them to be sound-tracking a mobile phone advert any time soon.
Standout track: Softly, Softly
As the second decade of the 21st Century got settled, the nostalgia for the penultimate decade of the twentieth grew and grew.
While synthesisers and drum machines regained popularity of late, there's been a return to the guitar sounds of the decade too.
Nowhere is this more evident than in The Playmakers whose The Boys From Up The Hill owed much to Joy Division, New Order and The Smiths with its intense bass lines and jangly guitars.
As a tribute to the works of Curtis, Sumner, Morrissey and Marr it's not too bad at all.
Standout track: The Boys From Up The Hill
2012 saw reviews of both an album (Colour Blind) and and EP (Answer Back) from Atakarma.
Despite the proximity in their releases, the two records are like chalk and cheese stylistically.
While Colour Blind embraces the 80s indie sounds of New Order (see especially The Upper Hand) its shorter precursor shows an evolution in the band's sound.
The EP is book-ended by Looking Back and Not Alone featuring the sprawling, gloom and doom laden soundscapes we've come to expect.
But in between, there's a punchier indie pop sound which emerges.
Punch Drunk is a world away from the sprawls of old with thick, dirty bass lines and Sumner-ish vocals.
Standout track: The Upper Hand
It may have passed your notice, but 2012 was an Olympic year. More precisely it was an Olympic year in London.
And while the world got very excited about the Danny Boyle opening ceremony (and a little less excited about Paul McCartney's fluffed rendition of Hey Jude; bless him - it's not a song he's really had much practice at, is it?) a Gloucestershire band did their bit to celebrate the summer of sport with Our Time Is Now.
The Flex (once known as Dress To Kill) unleashed an epic indie anthem, complete with big, swooping strings.
It was like the late 90s never finished. And that's no bad thing at all (says this teenager of the 90s).
The Roving Crows have been regular features on these pages but it was only in 2012 that we got a full album out of them.
Bacchanalia though was well worth the wait.
On first glance an Irish folk band, the group's richness lies in their embrace of sounds and textures from around the world, from the Jungle Book-ish skat singing of Long Time Dead through to the Arabic dustiness of Days in the Sun or the Hebrew stylings of More Than One thanks, in no little part, to Gregg Wilson-Copp's versatile trumpeting to complement Caitlin Barrett's fiddle playing.
At heart, this is an album about embracing life in all its fullness.
We are, after all, as the opening song says A Long Time Dead.
Standout track: More Than One
If ever there was a singing-song writing talent to be reckoned with in this county, it's Laurie Wright.
In the space of just three songs, the fantastic guitarist/excellent lyricist won over this reviewer with his tales of mundane misery elevated to something incredibly beautiful.
But enough of such sycophancy, just listen to him for yourself. Please.
Standout track: Mundane Mandy
Disappointment and unfulfilled potential is a regular theme in music.
And nowhere is it more abundant than in Stressechoes' excellent album, Goodnight, Impossible.
For all its noodling, light acoustic-ery, the band's long playing debut has a beautifully melancholic feel to it.
Amidst all the longing for better days, though, there's an enticing humour, such as Smalltalk, bemoaning those working in advertising.
But, for the most part, this is an album about dreams: the pursuit and loss of them and encroaching, inconvenient, ugly pragmatism winning the day.
Standout track: Railings Round Yer Grave
Ben Folds-meets-Mika-meets-Jamie Cullum. There.
That's the review done for the immensely, annoyingly talented George Montague.
Montague's jazz-funk-soul odyssey, Have You Met George? is a staggering album, profiling the absurd abilities of the eponymous hero.
Nowhere is Montague's talent for setting the brain on fire with the funkiest of piano riffs more clear than on Hamish: the pet name he gives to an earworm: a song that gets caught in your head and shows no sign of leaving. Much like Hamish itself.
Sadness has proved to be a defining feature of music in Gloucestershire in 2012.
Nowhere is that more evident than in Juey's gorgeously crafted album Ever Decreasing Circles.
It's an album littered with musings on vulnerability and very personal pain.
Early Learning is all about a child coming to terms with domestic violence, while Catch A Falling Knife considers two lost souls coming together, fearful of what effect their emotional baggage might have on a new start.
Even the light-hearted sounding Gin is an account of post-break up despair.
Sung over the lightest of folk-country accompaniments, Juey's songs will haunt the soul long after the album has come to an end.
Standout track: Catch A Falling Knife
1. Jim Lockey & The Solemn Sun
You can't really get more solemn than an album called Death, can you?
The band's second folk-meets-punk outing is laden with the bitter cynicism and bellicose bile fans from their debut came to love.
Nothing is left out of their sights: from small town dissatisfaction to world wars.
For anyone keen to write off the contemporary folk explosion as "Coldplay with banjos" this will put the record straight.
Probably the best albums to come out of the county in years.
Standout track: England's Dead
Related Internet Links
The BBC is not responsible for the content of external sites.