Honey stolen from beekeeper leads to offer of reward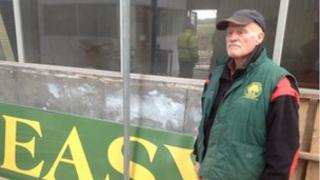 A beekeeper from Gloucestershire who had seven pallets of honey stolen before Christmas is offering a £2,000 reward for its return.
Forty tubs of honey were taken from Mike Roberts' premises at Longlands on the A46 at Shurdington on the night of 20 December.
Mr Roberts described those responsible as "human trash" and said the honey was worth "tens of thousands" to him.
He said if the honey was not returned his livelihood was over.
Mr Roberts breeds and sells bees and supplies honey to shops around the area.
He said: "This was a very bad year for honey production which is why this store of honey was so important, it's been hard to produce a cupful of honey this year.
"There's no tomorrow for me. When the few jars I've got left are gone that's it."