Gloucestershire snow: Drivers advised to be cautious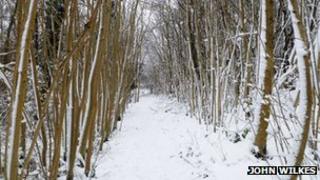 Drivers in Gloucestershire are being advised to remain cautious on the roads as light snow flurries continue across the county.
Gloucestershire Highways said key strategic routes are running well following a concerted gritting operation over the weekend.
A spokesman said gritting teams had covered about 50% of the road network.
He said gritting is now concentrated on rural areas and would continue as long as ice remained.
The Met Office said to expect more snow flurries in the region.
So far, four schools across the county have said they will be fully closed on Monday, and six will be partially closed.
Parents are being advised to check Gloucestershire County Council's website for a full list of closures.
The Forest of Dean was hardest hit by the recent snow, where 16cm (6ins) fell on Friday.
BBC Gloucestershire reporter Andy Barnard said there was "pack ice" on roads and pavements in the region, and warned pedestrians and drivers to take care.
Bus operator Stagecoach warned of a number of disruptions to its services and asked people to check its website for a list of changes.
Trains are running normally to and from Gloucester Railway Station, but railway operator First Great Western advised passengers to check before attempting to travel.
Flights into and out of Gloucestershire Airport are operating normally.
More than 300 Gloucestershire schools were shut on Friday and 300 homes were left without power in Coleford for several hours before Western Distribution fixed the problem, caused by snow on power lines.
The enhanced content on this page requires Javascript and Flash Player 9
Map Key
Land
Cloud
Lakes, Rivers & Sea
Fog
Light
Heavy
Frost
Light
Heavy
Pressure Fronts
Cold
Warm
Occluded
Rain
Light
Heavy
Extreme
Snow
Light
Heavy
Temperature tab only
Temperature (°C)
More details from BBC Weather