Cinderford redevelopment scheme to bring 1,200 jobs to town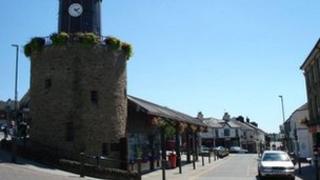 About 1,200 jobs are to be created when work begins on a £100m redevelopment of Cinderford's Northern Quarter.
The scheme is a joint venture between Forest of Dean District Council and the Homes and Communities Agency (HCA).
It will see about 100 homes built, a new business park and link road as well as the relocation of the nearby Gloucestershire College campus.
Forest of Dean Council leader Patrick Molyneaux said "some serious development" was to take place.
Preparations have already started and building work is expected to begin within 12 months.
Mr Molyneaux, who has spearheaded the campaign, said it has been a "long journey".
"There's lots of consultation involved and it takes time," he said.
"It's putting the money together, the plans and working with all the partners involved and we're coming to the end of that stage."
'New industry'
Graham Morgan, chairman of Cinderford Regeneration Board, said some of the buildings left in the former coal mining area had "not been touched" since the mid-1960s.
He said plans to regenerate the area had been discussed since 1999.
"It's time to move on really. It will be good to see something happening now," he said.
Jay Lambe of HCA said the agency was trying to encourage "a new wealth of industry" and enhance the area, but "have reference to what was here before".
She said "This is part of a wider ambition for Cinderford, and for the Forest as a whole.
"The ambition is for a green and sustainable development, with good quality buildings that are fitting for the environment we are in."