Death penalty Briton Lindsay Sandiford requests appeal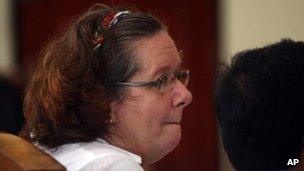 A British grandmother sentenced to death for smuggling cocaine into Bali has notified Indonesian officials she intends to appeal against the ruling.
Lindsay Sandiford, 56, from Cheltenham, Gloucestershire, was convicted last week of trafficking cocaine.
A court official confirmed his office had received the appeal request.
Earlier a law firm announced it was to challenge the UK government over its "failure to fund legal representation" for Ms Sandiford.
Law firm Leigh Day is seeking a judicial review. The government said it did not provide legal representation for British nationals overseas.
Rosa Curling, from the firm's human rights team, said: "The UK Government has repeatedly confirmed its opposition to the death penalty.
"It has a clear legal duty to ensure our client, who has no money to to be able to pay for the basic essentials, let alone legal representation, receives appropriate assistance to be able file an appeal against her death sentence.
"Without the government's help, Ms Sandiford faces being executed by firing squad."
Leigh Day, which is working with the charity Reprieve, said it would cost £2,500 to pay for an adequate lawyer to take on Ms Sandiford's case.
She was found guilty of taking 10.6lb (4.8kg) of cocaine onto the island, found in her suitcase lining during a routine search at Bali airport in May 2012.
The sentence, which will see Sandiford shot by a firing squad on the beach, was harsher than the 15 years in jail requested by the prosecution.
She has seven days to launch an appeal, but has no legal representation.
The Foreign and Commonwealth Office said it "strongly objected" to the death penalty and was continuing to "provide consular assistance to Lindsay and her family during this difficult time".
"We understand that under Indonesian law, Lindsay has at least two further avenues of appeal through the courts as well as an opportunity to apply for presidential clemency should these be unsuccessful," a spokesman said.
"However, we assist British nationals in identifying potential legal representation. We will continue to raise this case on diplomatic channels."
Leigh Day is seeking a judicial review of the government's decision and a hearing at the High Court in London will be held before Thursday.
Related Internet Links
The BBC is not responsible for the content of external sites.