Gloucestershire hospitals care probe call by MP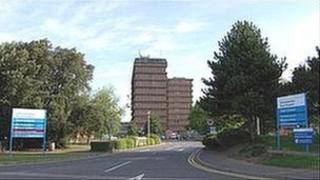 An MP is calling for an investigation into complaints of poor patient care at hospitals in Gloucester and Cheltenham.
Geoffrey Clifton-Brown's call comes after a senior NHS clinician alleged one patient "looked emaciated" and made claims of bullying and mismanagement.
Mr Clifton-Brown, Tory MP for The Cotswolds, wants the whistleblower's claims to "be fully investigated".
Dr Sean Elyan defended the trust saying its "recorded compliment rate" was "10 times greater than the complaint rate".
According to the unnamed clinician, who works at Gloucestershire Royal Hospital and Cheltenham General Hospital, both hospitals are "hopelessly mismanaged".
He claims some patients on the wards have been treated "appallingly" and "there is a real lack of care".
'Deaf ears'
On one occasion, he said a patient who came to theatre "looked emaciated" and said nurses were "too busy" to feed the individual.
But the senior member of staff, who wants to remain anonymous, said his concerns had fallen on deaf ears.
Now Mr Clifton-Brown is calling for Dr Frank Harsent, the trust's chief executive, to "fully investigate" allegations against its management.
"This whistleblower may be one out of many or he may be one lone voice but his claims even if he's anonymous should be fully investigated," he said.
"When something goes wrong he [Dr Frank Harsent] should be prepared to admit it, fully investigate it and make sure it can't happen again."
But Dr Elyan, the trust's medical director, said the trust saw "800,000 patients a year and currently less than 0.1% of those patients complain".
"I'm not trying to sweep this under the carpet however few there are," he said.
"We fully accept that sometimes we don't get things right.
"We need to hear those complaints and comments about our service because those complaints and comments are instrumental in us looking at our services and improving things."