Churchdown Tesco will create 100 new jobs in village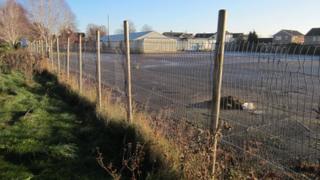 Supermarket giant Tesco is to create up to 100 new jobs at a village store it is building in Gloucestershire.
Questions had been asked about building work delays at the Churchdown site after plans were first publicly displayed over three years ago.
A supermarket spokesman said work would begin soon and the store would be serving customers "before the Autumn".
It is being built on the former Hurrans Garden Centre on Cheltenham Road East.
Hurrans went into administration in January 2009 after 40 years in business, blaming losses at three of its five branches, including its main centre at Churchdown.
Later that year Tesco confirmed it had bought the land and in December plans for the new store were put on public display in the village.
Since then the site has been left derelict and many people believe it has become an eyesore which has left some villagers questioning Tesco's plans for the site.
'Stranglehold'
Sophie Akokhia, from Tesco, said: "I know this will be a huge benefit for many local residents who want to shop closer to home, instead of travelling to supermarkets in other parts of Gloucester or Cheltenham.
"In addition, the store will create up to 100 new jobs and local contractors will be used during construction.
"This will be a major boost to the economy and could attract even more investment in Churchdown."
Mark Owen, chair of the Gloucester branch of the Federation of Small Businesses, said the store might be welcomed locally but the county really does not need another Tesco.
He said: "Already they employ more people than the local police and they have a massive stranglehold over the country.
"The knock-on effect is that many small businesses find it difficult to fight against them.
"On the flip side they are very well run businesses and local independents need to up their game in terms of service."