Cirencester playground to be finished after paint colour row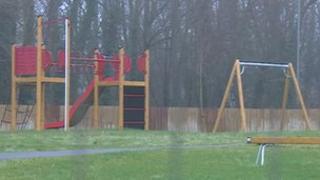 A playground which remains closed after complaints were made about its colour and size is to be re-worked.
The play area, which was built by Redrow Homes as part of a development in Cirencester, has had a new amended layout approved by planners.
Cotswold District Council said it had been dealing with objections raised by some residents whose homes were near or overlooked the play area.
The approval will enable Redrow to make the changes and open the play area.
A spokesman for the developers said its opening had been delayed due to concerns raised over the new playground's colour scheme at Kingshill, Cirencester.
They have agreed to adjust the colour of the equipment and move a few play items further away from dwellings.