Cheltenham car park site plans are approved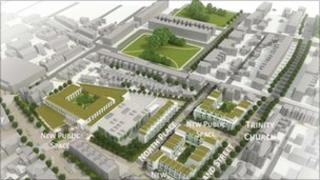 Plans for a mixed development on the site of the North Place Car Park in Cheltenham have been approved.
It means a new supermarket, multi storey car park and housing will be built on the land.
A meeting of Cheltenham Borough Council planners approved the application by 12 votes to two.
Campaigners had argued that a supermarket was an "overdevelopment" of a historic part of the town which did not give a good impression to tourists.
The proposal also includes plans for a public square, bus terminal and car parking.
The scheme has been drawn up by developer Augur Buchler.