Berkeley power station boilers taken away for recycling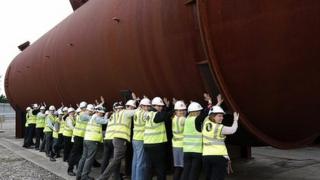 The first of 10 remaining boilers from the former Berkeley nuclear power station are due to be removed later.
A £15m deal to recycle the giant steel tanks was agreed in December with Swedish firm Studsvik.
The same company has already spent £8m on removing and recycling five boilers from the Gloucestershire site, each of which weighs some 300 tonnes.
The Magnox Berkeley site is the first commercial nuclear power station in the UK to be decommissioned.
Each redundant heat exchanger is 22m (72ft) long and was used as part of the electricity production at the nuclear power station, which ceased operation in 1989.
The boilers are shipped - via Sharpness Dock - to Studsvik's processing facility near Nyköping in Sweden.
Five other boilers were removed from the site in 2012.
The final boiler will be moved from the site in the middle of March.