Novalis Trust 'cannot use Halfway House pub as school'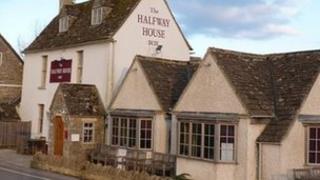 An enforcement order has been issued by a local council to stop a pub from being used as a school building.
The Halfway House in Box, near Minchinhampton, has been turned into a cafe and school reception area by the Novalis Trust which owns the building.
Phil Skill, Stroud District Council planning officer, said: "It's certainly a change of use from a public house into an educational establishment."
The trust has said it plans to appeal against the enforcement notice.
As well as being used as a reception area, the trust has used the building as a school canteen for the Cotswold Chine School, which it also runs.
Appealing against an enforcement order does not allow for any public feedback under planning laws.
As a result, Stroud District Council has said it has asked the planning inspectorate to intervene.
"We've quite strongly have demanded there should be a formal hearing, rather than an exchange of letters so the community can have its say," Mr Skill said.
Residents who have campaigned to keep the pub open said they want to talk to the owners to resolve the issue.