River Severn elver anti-poaching patrols 'protect stocks'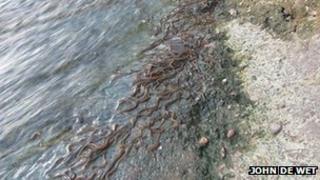 Night patrols along the River Severn in Gloucestershire are helping protect against the illegal netting of young eels, the Environment Agency has said.
The season, which runs until the end of May, is currently at its height with elvers fetching about £175 per kg.
Patrols were introduced 11 years ago as a way of halting a 95% crash in their population.
"Last season we took 12 people to court (for poaching)," said Dave Throup from the agency.
Environment Agency water bailiffs have powers of arrest, search and seizure under the Salmon and Freshwater Fisheries Act 1975.
A conviction carries up to two years imprisonment and/or a £2,500 fine.
Elver fishermen have to hold a valid licence and must not use a net larger than 3ft 3ins (1m) deep by 4ft (1.25m) long including the handle.
"These checks are important as the incentive to catch elvers is they're worth a lot," said Mr Throup.
"It's a lot more lawful than it was 10 years ago but we can't afford to let it slip now.
"It's important we ensure people doing the fishing are responsible and doing it with conservation at the heart."