Union 'not consulted' about MoD Ashchurch move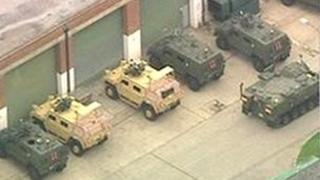 A union representing staff at a Ministry of Defence (MoD) depot in Gloucestershire claims it was not consulted on plans to sell the site.
The MoD is to vacate its transport depot in Ashchurch, which currently employs 90 members of the armed forces and 40 civilian members of staff.
A GMB Union spokesman said it had come as a shock to workers as there was no warning or formal consultation.
An MoD spokesman said it had had informal consultation with unions.
The depot near Tewkesbury is used to store and manage many of the MoD's operational vehicles.
According to the MoD, the site would need extensive refurbishment if it was to remain in operation and it has identified "greater efficiency" in relocating.
'Angry and dismayed'
Martin Hird, from the GMB, said the union was calling on Defence Secretary Phillip Hammond to intervene and reverse the decision.
"GMB members and representatives are angry and dismayed that the government failed to consult with the GMB at both local and national level regarding this decision," he said.
"It is also concerned that the decision was taken without fully understanding the operational role of Ashchurch and the strategic part it plays in providing technical support to the armed forces."
In a statement, the MoD said: "Logistic Commodities and Services has had informal consultation with the trade unions about the future of MoD Ashchurch and this engagement will continue.
It went on to say: "The formal process of trade union consultation will be taken forward in the normal way."
Last year, the ministry announced that an outline planning application was being drawn up for the 178-acre site.
A development proposal includes plans for 2,100 new homes, shops, a school, offices and open space.