Tewkesbury Mill Avon riverside walk plan to become reality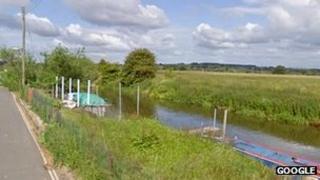 A piece of land has been donated to enable a riverside walkway project in Tewkesbury to become a reality.
The short walkway, from Gloucester Road along the east bank of the Mill Avon to Healings Mill, has been an aspiration of the town since 1949.
John and Hilary Parrott have gifted the final piece of land required to the borough council.
The walkway is expected to cost £30,000 to create and will be paid for out of reserves, the authority said.
'Given up hope'
The former mayor of Tewkesbury, councillor John Martin, first introduced the riverside walk idea in 1949 as a means of regenerating the town after the war.
The council said it had not been achieved because of a lack of access to the required section of land.
Also involved in the project are the Tewkesbury Historical Society and Tewkesbury Civic Society.
Alan Purkiss, chairman of the civic society, said: "I had almost given up hope of seeing this happen in my lifetime.
"There is now a great opportunity to rejuvenate this stretch of river and make it something to be hugely proud of."
The walkway is being designed before work begins to install interpretation boards, fencing, street furniture and appropriate paths and signing.