Gloucestershire new homes will 'join villages together'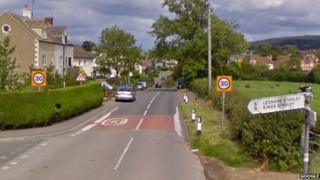 Residents opposed to plans to build 150 houses in a field between two Gloucestershire villages say it will join them together.
Development consultants Gladman Homes wants to build the homes on Mankley field which divides King's Stanley and Leonard Stanley near Stonehouse.
The Mankley Field Action Group has launched a petition against the plan.
Sue Davies, who lives next to the field, said the scheme would "destroy" the village communities.
"There wouldn't be any dividing line at all. It's also a lovely spot for wildlife," she said.
'Not nimbys'
"It will be a terrible shame if it does get built."
Labour village councillor Steve Lydon said the new homes would link the villages - which are less than a mile apart - and added the area is not equipped for 150 new homes.
"We aren't being nimbys, and people are prepared to discuss small-scale developments, but the area cannot cope with 150 new homes here. It will bring chaos," he said.
Dennis Andrewartha, leader of the Liberal Democrats in Stroud, said the introduction of the government's new National Planning Framework (NPPF) policy had left communities at risk from "predatory developers".
The leader of the Conservatives in Stroud, Keith Pearson said any planning application is "dealt with on its own merits".
Gladman Homes exhibited its plans at Leonard Stanley Village Hall last week. It has not yet applied for planning permission for the proposed development.
The Mankley Field Action Group is due to hold a meeting later to discuss the matter.
Gladman Homes was unavailable for comment.