Robinswood new footbridge built over badger sett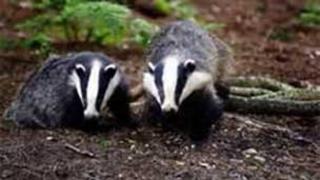 A public footbridge is being built to protect an active badger sett at Robinswood in Gloucester.
The bridge is part of a new footpath replacing a notorious level crossing which has been closed since 2006.
Network Rail said the crossing had the highest number of reported trespass and vandalism incidents for any public footpath crossing on the west network.
"The Robinswood footpath will provide a long-term solution to the problem," said Robin Basu of Network Rail.
The level crossing was put under a temporary closure order in 2006.
A public inquiry inspector decided in 2008 it should stay closed while an alternative safe railway crossing was sought.
Shot in the open
"We were eventually able to make available a strip of land on which to build a new path to avoid a detour of up to 3,281 ft (1,000m) using existing pavements," said Mr Basu.
While the ground was being cleared the badger sett was discovered and Natural England experts were called in to decide if it needed to stay.
A cull of badgers in Gloucestershire is due to begin on 1 June and will last for six weeks.
Ministers want to hold the cull to halt the spread of tuberculosis to cattle.
Under the plans, badgers will be shot in the open without first being trapped in cages, which is current practice.