Forest of Dean workers fear plans to block Asda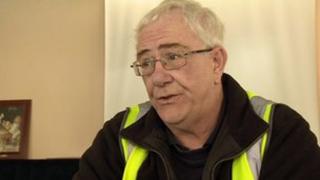 Workers facing redundancy in the Forest of Dean fear plans for a new supermarket, which would bring 200 jobs to the area, will be thrown out.
About 300 jobs will be lost when Home and Garden specialists The Range move from Mitcheldean to Doncaster.
Asda has permission to build a new store at nearby Cinderford, but the Co-op has been granted a judicial review of the decision.
The Co-op has not responded to requests for a comment.
Representatives of staff at The Range will meet with Baroness Royall, the Labour leader in the House of Lords, later to discuss the issue.
The Co-op has been invited to attend the meeting.
'Poverty line'
John Pitcher, who is representing staff at The Range, said: "We've got families, mothers that have just come back to work, two young couples that have just signed up on mortgages, and we've got husbands and wives that work together.
"It's basically all gone for them. The world has collapsed around them.
"Had it been a situation where there's plenty of work in the area it probably wouldn't have been so bad, but there's nothing in the Forest of Dean."
The High Court ruled earlier this month that the Asda plans must go to a judicial review following a request by the Co-op which already has a store in Cinderford.
The review will be held on a date yet to be set.
Forest of Dean District Council approved planning permission for the new 4,645 sq m store on Steam Mills Road last January.
There is also uncertainty about the future of the Ribena and Lucozade factory in nearby Coleford while the company behind them - GlaxoSmithKline - reviews the brands.
Lynn Teague, from the Citizens Advice Bureau, said: "People are losing jobs and they are finding it difficult to get other jobs, and jobs that pay a wage that they can actually live on.
"A recent report by Experian showed 26% of people living in the Forest who are working are living on the poverty line."