Rose Theatre's mental health work wins lottery funds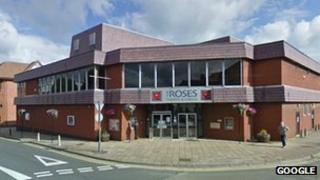 A theatre in Tewkesbury has secured £289,000 from the Big Lottery to help people with mental health issues.
The Roses Theatre will also help people affected by domestic abuse - both victims and perpetrators.
Arts and drama sessions will be used to help them build confidence and skills.
Director Sarah Blowers said: "For a lot of the women it was really important they weren't sitting in a room talking about it, but they were sitting in a room creating something."
'Safe place'
The theatre has already been helping people who have experienced domestic abuse during the past year in its Your Future project. Children at risk of exclusion and young offenders will also be helped.
Some of the methods used to help the domestic abuse victims have included learning ceramics, mosaics, film-making and knitting.
"For a lot of these women, they are agoraphobic and don't leave the house," Ms Blowers said.
"So for some of them it's the first time they've left the house to do something like this in a very long time and it's a safe place for them to come.
"What we've seen happen with the women that we've been working with, they meet outside [after the classes] and for some it's really increased their confidence.
"One of the women has gone on to get a job - before she said she wouldn't have even gone for the interview."
This work will continue and a new strand will be created to help perpetrators of domestic abuse.
"I always felt that it was important to work with the perpetrators of domestic abuse - I felt like that if [the issue] it wasn't addressed it would keep continuing," she added.
Some of the funds will also be set aside to help set up work experience and training for five young people.