Forest of Dean Wilderness Centre in handover bid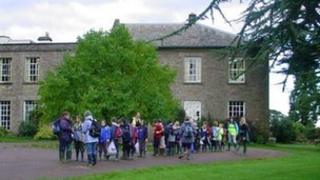 A group which wants ownership of the disused Wilderness Centre in the Forest of Dean has written to councillors asking them to hand it over.
The Wilderness Project board has said transferring the business as soon as possible was in the interests of all.
A bid to take over the vacant education centre has been ongoing since February last year, when campaigners first launched an appeal to buy it.
Gloucestershire Council Council said it was still in talks with the group.
'Community frustration'
In an open letter to the council's cabinet The Wilderness Project was introduced as a community interest company existing to restore environmental education services at the centre.
"We are writing to you today to ask you to support our request to the County Council for the transfer of the assets of the Wilderness Centre to the community," said the letter.
The group also highlighted that it had a detailed business plan and a petition with 1,000 signatures supporting its request.
"As well as addressing community frustration at the continued absence of these services, we are keen to relieve the council of the financial burden involved in securing the centre and the responsibility of managing its Key Wildlife Sites," continued the letter.
"We are asking the council to arrive at a positive decision on this matter as soon as possible so that we can restore these much-needed services."
The authority, which shut the centre in 2011 to save money, told the BBC it had never been available as an asset to transfer.
In April it was revealed that about £3,000 was being spent every week to secure the centre against the risk of squatters.