King Richard III's modelled head to visit Gloucester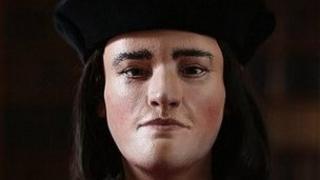 The city of Gloucester has been added to the route of a tour of the facial reconstruction based on the skull of King Richard III.
The head, currently on display in Leicester's Guildhall museum, is due to visit Gloucester in March 2014.
The tour follows the discovery of his remains beneath a car park in Leicester by a team of archaeologists, in August.
Twenty-two years before becoming King in 1483, Richard was granted the dukedom of Gloucester.
The reconstructed head will take in Yorkshire, Northamptonshire and London on its exhibition tour before it visits Gloucester.
'Strong links'
Gloucester City Council's Paul James said: "Gloucester has very strong links with Richard III and I am sure there will be tremendous interest in this exhibition when it visits the city.
"This was an astounding national discovery and the work that has gone into this replica head is amazing. It will be a 'must see' event."
The head was commissioned by the Richard III Society, and the reconstruction was the work of the forensic art team at the University of Dundee.
They used CT scans and photographs of the skull, combined with a specialist computer program, to reconstruct the king's face.
The digital image was then turned into a physical model, complete with hair and eyes.
At the end of the tour, the reconstruction will be returned to Leicester and go on permanent display at the city's new Richard III visitor centre.