Cinderford mine bat colony relocation criticised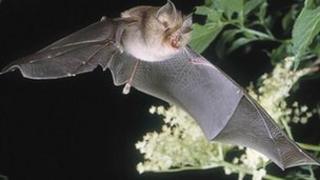 An attempt to relocate a colony of bats from a disused mine in the Forest of Dean has been criticised by conservationists.
The Homes and Communities Agency is spending £500,000 building bat boxes for the rare lesser-horseshoe bats in preparation for a new development.
The agency is the developer behind the Cinderford Northern Quarter Project which aims to bring work to the area.
But the Gloucestershire Bat Group said relocation would "destroy" the animals.
"You cannot just relocate animals like this - it will destroy the whole lot," said David Priddis, chairman of the group who has studied bats for 37 years.
'10-year programme'
"This is a very large colony of the lesser horseshoe bat - about 400 bats.
"Natural England made it clear to the Homes and Communities Agency - unless the colony does start occupying and breeding in the new accommodation they will not be allowed to demolish the old bathhouse (where they roost).
"They built one new roost before and it took five years until the bats moved in.
"Cinderford needs development, but not on one of the richest sites for wildlife we have."
The work at the mine is part of the Cinderford Northern Quarter Project to regenerate the largely derelict area of the town into a new employment, housing and education hub.
As well as providing 300 new bat boxes at the site the agency is also digging out two newt ponds and putting up 50 dormouse boxes.
"This is all part of a 10 year maintenance and monitoring programme," said David Warburton, from the Homes and Communities Agency.
"It's about designing the scheme in a particular way - the protection and enhancement of the site is very important."