Hatched wild crane chick fails to survive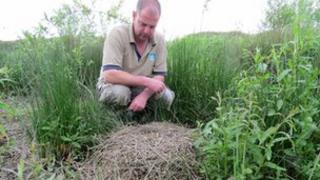 The first wild crane chick hatched in western Britain for 400 years has failed to survive its first few days, conservationists have said.
The common crane egg was laid at the Wildfowl and Wetlands Trust (WWT) at Slimbridge, in Gloucestershire.
Staff reported two fleeting glimpses of a chick next to its mother on 26 May, but it was abandoned after days of rain on 31 May.
Hunting and the loss of wetlands led to cranes becoming extinct in Britain.
The chick's parents, Chris and Monty, are part of the Great Crane Project which aims to reintroduce the species to western Britain centuries after they became extinct in the region.
The egg was the first known to have been laid by the project's cranes and had been given a round-the-clock guard to protect it from thieves.
'Strong bond'
Experts who inspected the nest found the remains of one hatched egg shell, but no sign of the chick.
A spokesman said it is not clear what happened to it, but that it could have fallen victim to the bad weather or a predator.
WWT's Nigel Jarrett said: "We're disappointed the chick did not survive, but are very impressed this crane pair has shown strong parenting instincts, despite being just three years old.
"We didn't actually expect them to start breeding for another couple of years, but Chris and Monty built a substantial nest, laid a fertile egg and worked together fantastically to keep it warm and safe against marauding gulls for over four weeks.
"They obviously have a strong bond and, with this year's experience, it's odds on they'll raise a wild crane chick next summer."
In the 1980s, a tiny group of cranes established home in Norfolk. But the population there has struggled to survive, barely reaching anything like sustainable numbers.