Bishop of Gloucester 'would not solemnise gay marriage'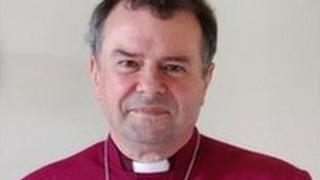 The Bishop of Gloucester says his conscience could not allow him to conduct a marriage ceremony for a same sex couple.
On Wednesday the House of Lords voted to reject plans to wreck the government's Marriage (Same Sex Couples) Bill.
Peter Tatchell, from the Equal Love campaign, said the vote was "a victory for love, marriage and equality".
The Right Reverend Michael Perham said he accepted gay marriages would happen.
But he added those that could not accept that in good conscience should not be put in an impossible position.
'Opt in'
Mr Tatchell said the vote "signals that the House of Lords accepts the principle that we should all be equal before the law".
But Bishop Perham said "I don't think I've yet moved to a position where even if the law allowed me to that I'd solemnise a same sex marriage."
He said he accepted that under some circumstances he could take part in a service that was a blessing of a same sex relationship.
"That I would not have said a few years ago but we all move on," he added.
The Marriage (Same Sex Couples) Bill would allow couples, who can currently form civil partnerships, to marry.
If it passes into law, religious organisations would have to "opt in" if they wished to offer gay weddings, except the Church of England and Church in Wales, which would be banned in law from doing so.