Westbury-on-Severn surgery reopening delay causes anger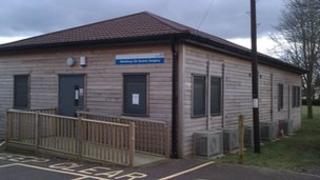 Concerns have been raised about a GP surgery in the Forest of Dean which opened on 14 January, closed again the same day and has still not reopened.
The new £300,000 Westbury-on-Severn Surgery closed after four hours on its opening day due to technical problems.
The surgery is a branch of the nearby Newnham Practice and the NHS said the problem concerned the computer connection between both sites.
The local authority's Norman Stephens said people were "thoroughly fed up".
The Forest of Dean district councillor, who represents Westbury and Newnham, said: "We've been fobbed off time after time. It absolutely beggars belief. We've heard excuse after excuse."
'Very disappointed'
Chairman of Westbury-on-Severn Parish Hall Jan D'Ambrosio said she was "very disappointed".
She said: "There are a lot of elderly and they are the ones who really need the surgery here."
A spokesperson for NHS England said: "Both the practice and NHS England have been making every effort to resolve the situation as quickly as possible, and our IT team has been working with the practice to establish the cause of the problems.
"We are very close to resolving the connectivity issues and we are working with the GPs to open the practice as quickly as possible."
A statement on the surgery website said it could not give a definitive date for reopening.