Gloucester Cathedral life-size statue honours Abbess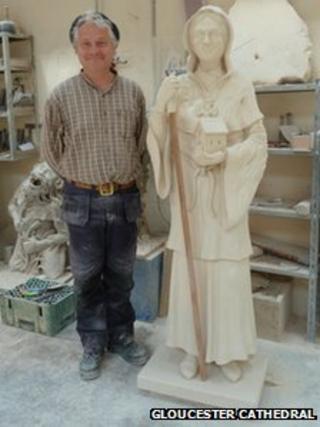 A life-size tribute to Gloucester's first Abbess has been carved by a stonemason for the city's cathedral.
Kyneburga, head of an abbey of nuns, is known as the sister of Osric, an Anglo Saxon prince who founded a religious community in Gloucester in 678-9 AD.
Master mason Pascal Mychalysin said it was highly significant to remember that 1,300 years ago women could be in respected positions of authority.
"This is an issue which today has still to be addressed," he added.
The stone statue of Abbess Kyneburga will be unveiled on 25 June.
It's crozier (staff) was cast at the Pangolin Editions foundry 14 miles (22km) away in Stroud with Mr Mychalysin undertaking the main carving at his workshop in Gloucester.