Cheltenham one-way system consultation begins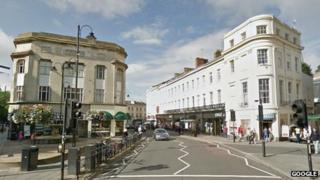 A series of consultation events, asking for public reaction to plans to alter Cheltenham's one-way system, has begun.
Under the proposals, two-way traffic could be restored in parts of the town and cars would be banned from the road passing Boots corner.
The changes aim to make it easier for people to walk, cycle and use public transport in the town centre.
The first drop-in session will take place at Sainsbury's in Oakley on Tuesday afternoon.
A two-month consultation into the Gloucestershire County Council plans is due to end on 1 September.
Under the plans, two-way traffic would be allowed in Imperial Square, Oriel Road and parts of Albion Street and Clarence Street, roads which are currently part of the one-way system.
The project is part of Gloucestershire County Council and Cheltenham Borough Council's transport plan for the town.
It would be funded through money already raised through government grants and the sale of council land.
A further nine consultation events will take place in the town over the next 10 days.