Heather Frost will not be given a purpose built eco-home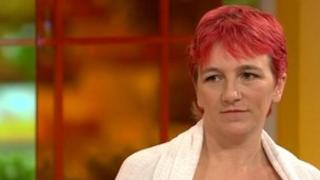 An unemployed mother of 11 will not be given a purpose-built six-bedroom council house, a housing association has confirmed.
Newspaper reports said Heather Frost, from Churchdown, Gloucestershire, was due to be moved into the property in Tewkesbury by her local authority.
But Severn Vale Housing claimed the house had never been officially allocated to the Frost family.
A spokeswoman added: "We decided it did not meet her needs."
Ms Frost previously complained that her current living arrangement, in two council houses that have been knocked together, was a "nightmare".
The new house was built after the council sold a plot of land to the Severn Vale Housing association to develop 13 houses.
The detached eco-home, on the development in Gwen Davies Row, Northway, was designed to reduce energy and water consumption and included three bathrooms, a large open plan kitchen-diner and two lounges with French windows.
Severn Vale Housing said in a statement: "We'd like to stress that despite the media coverage around this property, at no point has this home been allocated to any particular family.
"We are currently working with Tewkesbury Borough Council through the allocations process to identify households with suitable needs.
"As part of this process we can confirm that the Frosts will not be moving into this property and we are currently looking at other options for the family."
The borough council said several families were in a similar position to the Frost family and properties were only allocated when they were ready for occupation.