Gloucestershire cash machine scam: Trio are jailed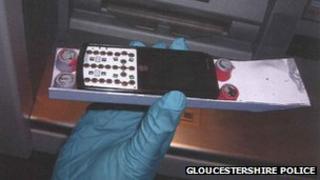 Three men have been jailed for stealing money using devices attached to cash machines in Gloucestershire.
Gloucester Crown Court was told Lucian Dascalesci, Mihai Dragan and Christian Tudor fitted a device to trap cards and then record the card's PIN.
Dascalesci and Dragan, of Red Lane Coventry, were jailed for 18 months while Tudor, of no fixed address, was given 13 months.
The trio, from Romania, are likely to be deported after their sentences.
Plain clothes police officers saw them attach the device to a cash machine in Hucclecote before they attached a second device at Bath Road, Cheltenham.
The court was told the device trapped the card and a camera hidden in a box above the keypad recorded the PIN.
Jailing the men, Recorder John Trevaskis said Dascalesci and Dragan were the chief conspirators in the case.
"The quick action of the police nipped this in the bud and stopped a longer and more damaging pattern of crime," he added.
Because the jail term is greater than 12 months the men will be automatically deported, subject to appeal.
Gloucestershire Police said it was investigating at least a dozen similar cases and advised users to be vigilant and cover the keypad while entering their PIN code.